As areas begin to reopen and shelter orders begin to lift, many companies are evaluating the safest, most prudent course for reinitiating their travel programs. Understandably, travel has been severely depressed over these past several months as many companies have been forced to postpone or cancel planned travel in an effort to protect their employees as well as their financial assets.
Savoya is dedicated to helping customers get back on the road safely and confidently. As such, we recently asked our customers to complete a brief survey in order to help us understand their travel needs moving forward into the second half of 2020, and to ensure that we continue to exceed their expectations for both service and safety.


Survey Results Show a Progressive Return to Normal
---
Respondents were asked to project the progression of their travel ramp-up through the end of 2020. After a few months of steady acceleration, companies project that they will work back up to 73% of their usual volume by Q4.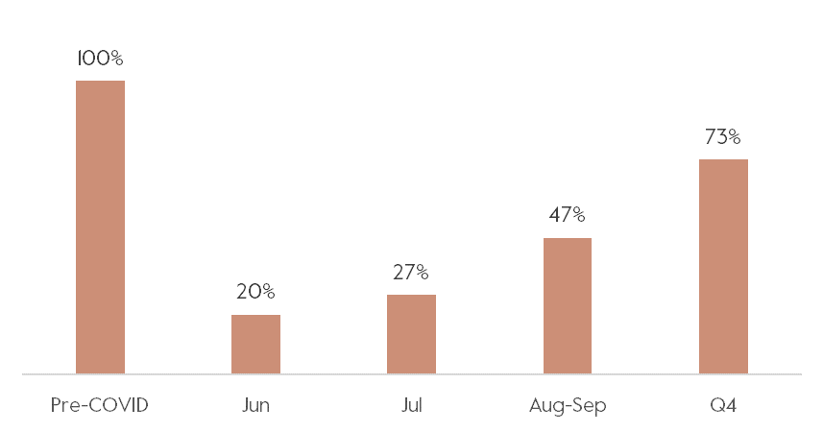 Respondents were then asked to project the long-term—specifically post-COVID-19—impact on their organizations' travel programs. Almost half of customers projected that COVID-19 will ultimately reduce their travel by 10% or less, with 25% projecting no change at all. Only 15% of customers expect an impact of over 50%.
Next, respondents were asked to assign a level of importance to several potential health and safety measures specific to ground travel. Sanitizing passenger areas in the vehicle between every trip was identified as the most important health/safety standard. This was followed closely by things like ensuring that there is hand sanitizer readily available in all vehicles and mandating that both drivers and passengers wear protective face masks on all trips.
Respondents were then asked to identify service standards for ground travel that would have a meaningful impact on their travel plans moving forward. In order of importance, the following standards were identified as having significance:
Drivers that are thoroughly vetted and screened
Proven safety and security protocols
Real-time notifications
Concierge-style service
Global availability
Live GPS tracking
Multiple booking options (online portal, mobile app, email, phone)
In verbatim responses, many respondents expressed optimism about the prospect of resuming travel soon, and excitement to re-engage with customers, visit other offices or facilities, attend conferences and trainings, and generally get back to a more robust travel schedule.


Savoya is Responding with Thorough Health and Safety Protocols
---
Although travel has been severely depressed since March, Savoya has continued to book and execute trips each and every day. This has necessitated an ongoing—and almost fanatical—focus on driver and passenger safety. Going back to mid-February, Savoya has proactively installed safety standards based on best-available information from the WHO and CDC, vehicle sanitization best practices, and specific expectations/requests from customers.
These safety standards include trip-by-trip techniques; most notably, the requirement that both drivers and passengers must wear protective face masks and avoid physical contact (i.e. handshakes). Also, drivers and passengers should both perform a temperature check and forego traveling if feeling at all unwell. Drivers should always have an alcohol-based hand sanitizer readily available in the vehicle and should avoid using the recirculated air option for the car's ventilation during passenger transport. They should instead use the car's vents to bring in fresh outside air. We've also given passengers the option to handle their own luggage if preferred; or drivers can handle it as usual, then sanitize handles after.
Savoya has also given drivers thorough guidelines on how to maintain vehicle cleanliness. Most importantly, before every single trip drivers should sanitize all passenger areas and frequently touched objects in their vehicles. Drivers should perform a full vehicle cleaning daily, washing all exterior and interior hard surfaces with soap and water and vacuuming all carpeted areas. After cleaning, drivers should liberally spray the interior of the vehicle with spray disinfectant, including using thoroughly in vents and ducts.
Finally, Savoya has created a day-of-trip checklist for both drivers and passengers.
Driver/passenger does not have COVID-19, is not currently awaiting a result for a COVID-19 test and does not suspect that they may have COVID-19.
Driver/passenger is not experiencing symptoms commonly associated with COVID-19, such as a fever, cough, or shortness of breath.
Driver/passenger has not been in close contact with someone known or suspected to have COVID-19 within the past 14 days.
If driver/passenger has recovered from COVID-19, the following criteria must be met: At least 72 hours have passed since resolution of fever without the use of fever-reducing medications and improvement in respiratory symptoms; and at least 10 days have passed since symptoms first appeared.
As companies begin to ramp up travel in the coming months, Savoya is confident that these comprehensive health and safety protocols will help travelers get back on the road safely and confidently.
What steps is your company taking to reinitiate travel in 2020? Leave us a note below with your comments.