One of our goals in launching Momentum, the new Savoya blog, was to keep our travelers and those who support them up-to-date on trends and changes within the travel industry. Part of that commitment means finding new research, sharing it with you and offering our perspective on why it's important.
Recently, Aon, a leading global professional services and insurance firm, in partnership with The Risk Advisory Group and Continuum Economics, released the 2018 update to its annual Risk Map report. As in the past 11 years the report has been published, the findings provide a good year-over-year baseline on everything from political risk to social unrest that any travel coordinator supporting international travelers should be familiar with.
Read on for the 2018 study's key takeaways, as well as our suggestions based on their findings.
Terrorism & Political Violence
---
As in the 2017 edition, Aon's 2018 Risk Map survey is broken into two sections: one on Terrorism & Political Violence and one on Political Risk.
In the leading section on Terrorism & Political Violence, the picture is, unfortunately, not promising. Henry Wilkinson, Head of Intelligence & Analysis at The Risk Advisory Group, says that the report's findings, "point to a more unstable and dangerous world, where business-threatening geopolitical risks are becoming a much greater concern." He continues, "For the third year running, we have increased the risk levels for more countries than we have reduced."
Scott Bolton, Aon's Director of Crisis Management, offers an explanation for these results, stating, "Our analysis shows growing strategic risks from the deterioration of governance in already challenged regions and the increasingly combative stance governments are prepared to take. Forward-leaning, populist governments have increased the potential for internal, domestic dissent as well as cross-border conflict, resulting in violent events affecting much wider areas."
What should be of even greater concern to travel coordinators and the executives they manage is that risk profiles aren't just rising in developing and emerging markets. These increases are happening across the board.
A few key findings that caught our attention include:
Overall political violence risk levels worldwide increased for the third year in a row, with 17 countries receiving increased risk ratings and only six receiving reduced risk ratings.
Forty-six countries or territories are now rated as high or severe risk, representing 22% of the global total.
40% of countries are assessed as being exposed to terrorism and sabotage risks.
60% of countries are exposed to threats from civil unrest.
The number of terrorist attacks in Western countries in 2017 was roughly double that of 2016.
These numbers are concerning. They suggest that planning safe travel requires more vigilance than ever before. But this caution shouldn't be reserved for seemingly dangerous destinations.
The U.S. and the U.K. are no longer the sanctuaries we imagine them to be. Both remain at an elevated "medium" risk level, placing them in the same risk category as Russia, Brazil and Mexico. Perhaps it's no wonder international travelers visiting the U.S. and U.K. regard them with as much concern as an American or Brit might have for Kenya or South Africa.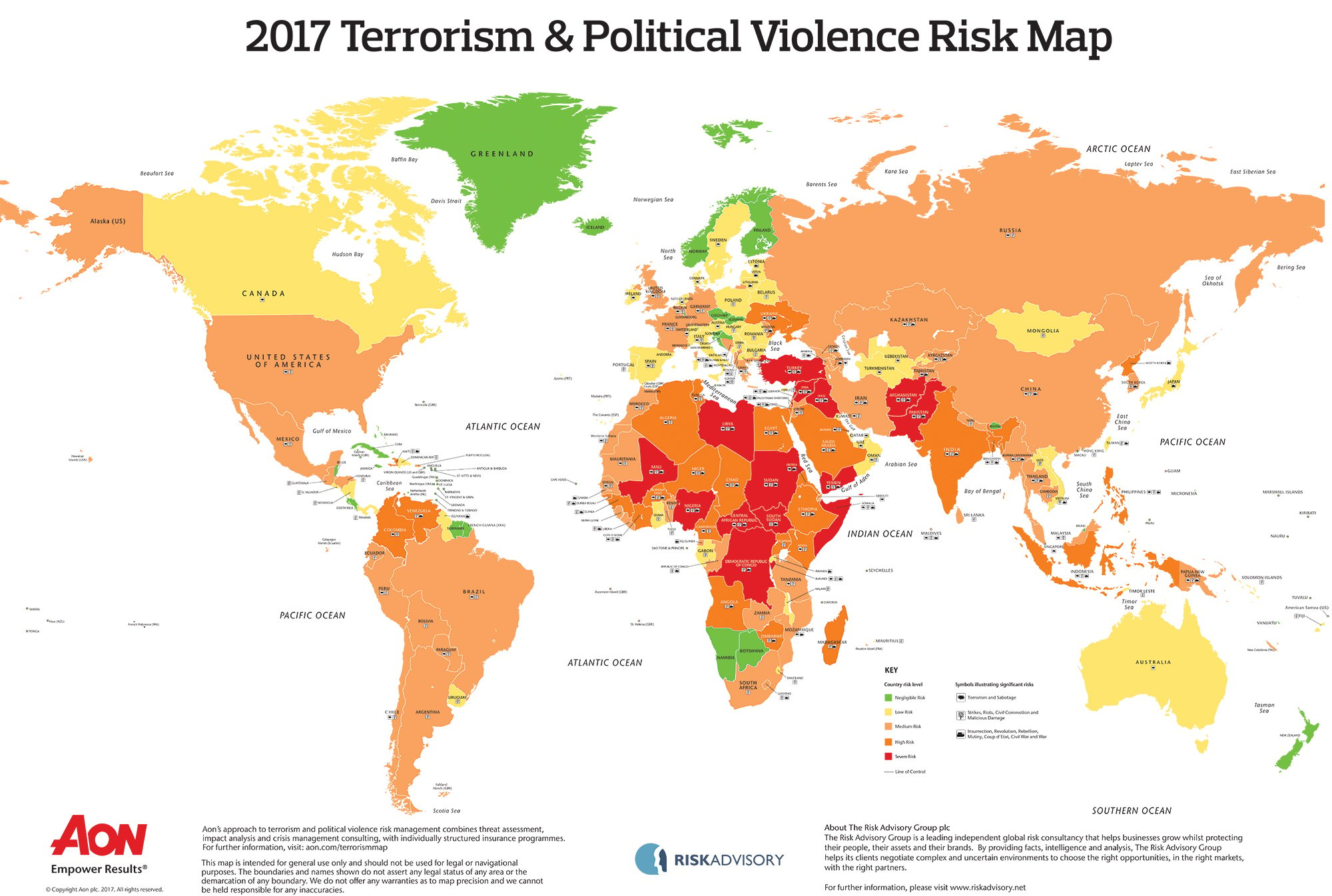 Political Risk
---
The second half of Aon's report on Political Risk is generally more relevant to those involved in risk-based economic and insurance planning, such as those looking to expand operations or locate suppliers in specific global markets. The overall outlook, however, is similar to that offered in the section on Terrorism & Political Violence.
Paulina Argudin, Director of Country Risk Models for Continuum Economics, states of the Aon Political Risk Map's findings that, "Last year we saw political risk increase in eleven countries, compared to only two countries that saw reduced risk. This shows the persistence of political risk across the globe, highlighted by increases in political violence and supply chain disruption."
A few of these political risk trends travel coordinators should note include:
Political risks in Latin America have been heightened surrounding a busy election season, which, in some locations, has led to deteriorations in domestic political stability.
Political risks in the Middle East have been increasing due to a rising number of corruption- and terrorism-related events. The report notes that this heightened political risk and elevated political violence has the potential to spill over to neighbors, undermining trade and tourism.
Planning for Safe Travel
---
The second takeaway from the Political Risks section reveals an important challenge confronting travel coordinators and their executives: that there are simply fewer "safe havens" in the world than there used to be.
Risk isn't confined to "dangerous" countries. Increasingly, the tourism industry has become a highly attractive target for attacks. According to the report, "More than 80% of all terrorism related fatalities in Western countries last year occurred in locations where tourists are likely to gather – including hotels, airports, public spaces and entertainment venues."
In support of this finding, the report shares two examples that will likely be familiar to most readers. "A vehicle-impact attack on a popular bike path in Lower Manhattan in October 2017 resulted in eight fatalities, and six (75%) were foreign tourists. And eleven of the fifteen people (73%) who died in the same type of attack in Barcelona in August 2017 were foreign nationals."
Overall, more countries than ever before have been categorized by the report's partners as experiencing high levels of risk. More of them are Western countries, tourist destinations and countries that are perceived as being low risk than in previous reports. Together, that's a recipe that demands increased caution on the parts of both travelers and those arranging their trips.
Mitigating Global Travel Risk
---
The full report goes into significantly more detail on both these general trends and the specific causative agents of geopolitical and socio-economic conflict. It's worth a read, especially if any member of your company is planning to travel to high-risk regions in the near future.
Ultimately, familiarizing yourself with the data coming out of Aon's report won't fully eliminate travel risk. Nothing will. But by educating yourself with up-to-date information about worldwide threats - such as the data provided by Aon's 2018 Risk Map report - you'll be as prepared as possible to make the best, safest decisions on your future trips.
Did any of the key takeaways from Aon's report surprise you? Share your reaction by leaving us a comment below.